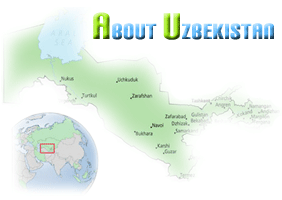 Uzbekistan is a beautiful country, situated in the heart of CA (Central Asia) at the crossroads of ancient trade routes ("Great Silk Road"), and slightly larger than CA (California) with a population of almost 25 million people. Uzbekistan is the world's largest cotton exporter, a large producer of gold and oil and a regionally significant producer of chemicals and machinery. Uzbekistan has its own distinctive culture.

Uzbekistan is a state with millennia of historic development. Having emerged as a state entity after the collapse of the Soviet Union in 1991, Uzbekistan now openly leads its way into the future, with its primary objectives being a gradual and consecutive formation of a democratic society with a free market economy.

Uzbekistan is a country with a territory of 172,700 sq. mi (447,400.00 sq km). It is the leading country of Central Asia in terms of economic potential and key geopolitical influence. Its capital - Tashkent - a city with a 2000-year history, is the largest city in the region (2.5 million people) and an important political, industrial, financial, and cultural center.

Uzbekistan shares borders with all the other Central Asian states and is at the center of the region's transportation and power systems. In the western part of the country there are deserts and to the east are mountains. About three-fifths of Uzbekistan's land area is desert steppe broken by irrigated, fertile oases along the banks of two great rivers, the Amu-Darya and Syr-Darya (the historic Oxus and Jaxartes). Uzbekistan has mild winters and no more than 8 inches of rainfall per year, but its hot, dry summers, extending from May through October, and water for irrigation, create excellent growing conditions for warm weather crops such as cotton, tobacco, fruits, and vegetables. Quick other facts: Estimated population in 2050: 48,597,111; Literacy: 99.0%; Currency: Uzbekistani som.